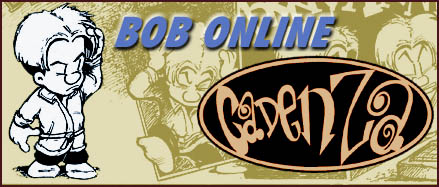 ---

A FABULOUSLY NEW NONSENSICAL AND BIZARRE EPIC UNFOLDS...

And where better for it to appear than in Washington University's Arts and Entertainment publication, Cadenza. Scratch the first two, even though they've been wonderfully thought out. Because the Cadenza is a weekly publication, I know get weekly sunday-comic-like space to mess around with. With the added room, and my general favor towards longer series-enabled stories, for the rest of the year I will be featuring the unfolding epic tale of Blake. It will be featured on an installation basis--once a week expect the next page of the comic. This awfully dreadful pace will eat away at most of you. Who know's, maybe it will persuade you to come back each Thursday drooling for more. Only you lucky members have already seen the first 15 pages or so in a special sneak preview, the rest of you will just have to wait to see what happens. If you missed my work last year in Student Life, check out the load of comics I spun out by clicking here. Otherwise, enjoy the ride! Click on the thumbnails. Feel free to e-mail me with any feedback: abusive, exclusive, obtrusive, convolusive, or hypoteneusive.




The latest and greatest...

Blake's Cadenza Appearances...



---